This year's Carnival 5km will take place on the evening of Tuesday the 14th of June.
The event will consist of a junior 1 mile race for 8 to 13 year olds and a 5 km race for adults and juniors ages 14 and over. The junior event will start at 7:00 pm, followed by the 5km at 7:30 pm.
2015 Race Report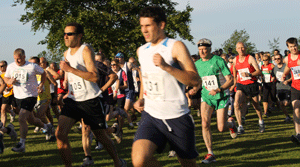 The boy's category this year was won by Max Meadwell of Wimborne A C in 5 minutes and 26 seconds, beating last year's winning time by 3 seconds. Finishing second in a time of 5 minutes and 30 seconds was Nathaniel Willmore running for rival club Poole Runners, with third place being taken by Poole A C's Josh Smith in a time of 5 minutes 41 seconds.....
Trophies will be awarded to the first three male and female competitors to cross the finish line in each race. In addition, all junior participants will receive a commemorative medal for successfully completing the course.
In recognition of the many Corfe Mullen non-club running residents who will be taking part in the Corfe Mullen Carnival 5k and children's 1mile events, the Parish Council will be sponsoring trophies to be presented to the 1st male and female, boy and girl non-club runners to cross the line.
Corfe Mullen Carnival
The race is planned to coincide with the Corfe Mullen Carnival, which takes place this year on Saturday 11th June. Click here to link to the Carnival's own website to find out more about the various activities taking place during this year's Carnival.
2016 Nominated Charity
Profits from the race will go towards Julia's House, this year's nominated charity.